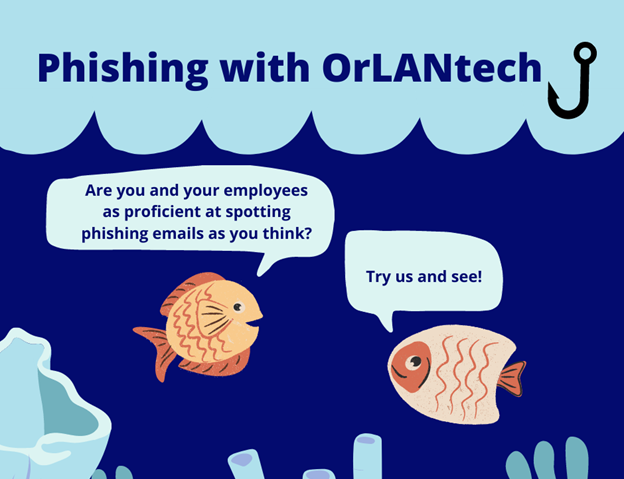 Are you and your employees as proficient at spotting phishing emails as you think? You would be amazed at the most legitimate looking emails that can fool even the experts, unless you know what to look for. Did you know that more than one-third of all cyber attacks start with phishing emails and cause 90% of security breaches? These fraudulent attempts to gain access to your sensitive information are getting ever-more sophisticated, and it only takes one email scam for a hacker to steal your identity, commit financial fraud or a cause a divesting data breach. This would not only affect you, but also your clients/customers.
At OrLANtech, we can help you ward off disaster by training you and your employees on how to identify these cyber threats. We offer an effective employee phishing awareness training program that sends "fake" phishing emails company-wide to see if anyone falls for them by clicking on links or attachments. Once opened, they could spread malware, viruses or worms throughout your network. Our program tracks and reports clicks to identify which user(s) are considered a liability. In addition, we provide quarterly trainings to know what to look for.
Connect with a Client Success Manager to schedule a time to discuss implementing a phishing awareness training program for your company.